Dan Dalrymple's website

Fun, light and G-rated pages from Dan's family tree, sailing the Great lakes in old Cal Yachts, burning Ohio firewood, herbal cures, my humble opinions on several '70s Great Lakes sailboats, and muzzle loading ballistic charts .
Click on any of the yellow buttons below to view more of our site's pages.




Our home page.


One of my favorite sailboats. I've owned a Cal 2-27 for over 20 years. I've owned larger, newer boats but the cal 27 remains my favorite sailboats for the Great Lakes especially Lake Erie.


My humble opinion on several older sailboats that were popular on the Great Lakes during the '70s


Interesting information on burning firewood as a home heating aid.


We've backed up our home's heating furnace with a firewood woodstove for over 40 years.


Our ancestors used many different items to cure their ills. Hundreds of these items, or herbs, as people called them were developed into the medicines that we use today. Note: For information only. We do not sell or promote herbs here.


Muzzle loading ballistic tables from my son and my experiences with Ohio muzzle loading deer hunting.


This web page contains a complete Dalrymple family line from Andrew Dalrymple, born in Scotland about 1682, all the way down to my grandson, Brian.
Click on any of the yellow buttons above to view more of our site's pages.
Sorry but I have no line drawings of the Cal 20. This is a shame because the Cal 20 was the second Cal produced and sold. Actually, the 24 was first, the 30 was designed next but the smaller Cal 20 was designed and produced before they actually produced a 30.
The Cal 20, 1961 to 1975.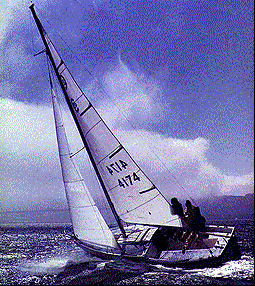 . The California 20, designed by Lapworth in 1960, went into production in 1961 (Note: the name, California 20). It quickly became popular due to it's low price tag of $3200 during most of the 1960's. This low priced vessel soon became the #1 seller for Jensen Marine, surpassing the California 24. Jensen would soon be building a 20 footer each day !
These quick little sailboats with four bunks, an eight foot cockpit, lots of storage and a marine head were within the price range of the masses. The Cal 20 is a great boat even today. A used Cal 20 in good shape will bring nearly as much in today's market as she sold for new over 30 years ago. Over 2400 Cal 20's were manufactured.
SPECS, Cal 20: LOA = 20' 0", LWL = 18' 0", Beam = 7' 0", Draft = 3' 4", SA = 196 square feet, Disp. = 1,950, Ballast = 875 pounds.
Cal 20's caught on quickly. Today, there are still more than 25 active Cal 20 fleets. There is at least one large fleet of these small boats in San Francisco Bay area. San Francisco is known throughout the world as a heavy weather area. This, in itself, says a lot for the Cal 20. To this day, the National Cal 20 Association holds an Annual Cal 20 National Championship Regatta.
---
Cal Yachts webpage

A webpage, edited by Dan Dalrymple, and

dedicated to one of the greatest sailboat

designers in the world, BillLapworth, who

designed the Cal 40 in 1963.
---
---

You also might enjoy looking at our Apple Creek United Methodist Church website at http:www.applecreekumc.com
Dan Dalrymple, Wooster, Ohio
go2erie@sssnet.com
This page last updated on May 13, 2013.
bottom of page . . .
Dan Dalrymple, editor, Old Cal Yacht homepage. No fees, no charges,
just good "G" rated information for all ages to view.