The Cal 2-27 was a roomy, stable, solidly built sailboat. It sailed well and seemed very "stiff", heeling to about 20 degrees, then settling in. Most owners have reported little or no major problems with this design. Owners feel that the boat stands up well to windy conditions, stating that they feel safe in the boat because she is stable and remains under control when the usual precautions have been taken. Practical Sailor Magazine, June 1, 1995
Cal 2-27
The second 27 footer that Lapworth designed for Cal was the 2-27. The 2-27 was the largest of the three Cal 27 footers. The 2-27 was designed by Lapworth in 1973 and production started in 1974. I'm not sure when production ceased on the 2-27 but Jensen Marine was purchased by Bangor-Punta in the mid '70s. (date? anyone...) Bangor-Punta already owned O'Day Yachts and Prindle Catamarans. The chief designer for O'Day was a fellow by the name of C. Raymond Hunt. Mr Hunt's son, Jim, ran the O'Day manufacturing plant. Bill Lapworth remained as the sole designer for Cal.
Here are the specs for the Cal 2-27.
LOA = 26' 7"
LWL = 22' 1"
Beam = 9' 3"
Draft (fin keel) = 4' 3"
Ballast (fin keel) = 3100 pounds
Displacement Fin = 6700 pounds
Engine = Inboard diesel
Sail area = 374 Sq. Ft
I=36', J=12', P=30.8', E=10.3'
Designer = Bill Lapworth
Note: This Cal 2-27 was 1500 pounds heavier, 3 inches wider, the mast was 3 feet taller than the newer design, the Mark III. It was much larger that the first 27. This 2-27 was the largest of the three Cal 27s.
---
These photos are not the best but they are good enough to show the bottom of my newly purchased Cal 2-27 "imp". Yes, it was pressure washed but not much came off. Like I said before, "imp" was raced hard for a couple decades then sadly neglected for several years after that.
You would not recognize the bottom now. Karen and I sanded the bottom to original jell coat then applied 4 coats of VC Coal Tar epoxy barrier coat, wet-sanding between every other coat. We finished off with another wet-sanding then 4 quarts of VC-17 bottom coat with teflon. Actually the bottom was in perfect (structural) shape when we got her last fall, (fall of 1997) the growth had simply taken the bottom over.
---
Photo of "imp", bow on. The mast is tied and braced along the deck for the winter. The rig is a deck stepped, masthead sloop with single spreaders and single lower shrouds. The mast is untapered, made by either Superspar or Kenyon, each having slightly different specs. The hull of the 2-27 is solid fiberglass (no core) and the ballast is lead. The deck is cored with plywood sections set in a "mish-mash" of resin and glass, held down by sandbags until cured. Fred Cook, vice president of Schaefer Marine, who worked for Cal during those years, joking said they called it "early vacuum bagging". The hull/deck joint was sealed with putty then glassed on the inside.
---
Click for transom view of "imp". Bill Lapworth sure knows how to design a nice transom. This is the view that Karen and I hope that many of the other members of our marina will see as we try her out in a few local races this summer. Speaking of racing, the 2-27 rates about 200 under PHRF, slightly more or less depending on the fleet. A C&C 27 usually rates about 175, a Morgan 27 about 180 which gives the Cal a little break to these faster boats.
---
Click for line drawing of a Cal 2-27. This is the same photo that is at the top of this webpage, it's larger here. It seemed to take forever to aquire these drawings after we bought a 2-27. Thanks again to Doug McCance. If you want any of the drawings on my webpages and don't know how to grab them from your browser, let me know and I'll email them to you.
---
All designs have certain things that can be called weaknesses. I prefer to call them compromises. The 2-27's few weaknesses were:
Some say that it is about a thousand pounds too heavy. Wonder what they'd say about a Westsail 32?
Poor backing of hardware. My 2-27 has been raced hard for 23 years and all the hardware seems to be in place.
Short on storage area. This can be easily corrected by simply purchasing a new Cal 39.
Many owners of the Farymann Diesel complained about low power and that parts were hard to get. I myself, think that the Farymann did have it's share of problems including corrosion problems in salt water. However, my 2-27, hull #106, still has the original Volvo-Penta two cylinder, 4 cycle, 15 horse gasoline engine. It has ample power. Many of these 2-27s came with the Atomic 4 with 25 horses, a few of these boats came with outboard power.
Even though I kid a little about these weaknesses, they do all exist. The backing on the hardware is almost non-existant. No backing plates, only washers. Even though all the hardware on my 27 "imp" is still in place, most is loose and jellcoat is cracked around most hardware especially around the life line stanchions. I'll add backing plates when I re-bed the hardware.
Inside storage can be improved slightly by adding access doors. Most owners of 27 foot boats want better storage. Most owners of 52 foot boats have plenty of storage but wish for the "ease of handling" of a 27 foot boat.
The least of my worries on this boat is the "thousand pounds too heavy" deal. I'll take the extra fiberglass ! The Catalina 27 of the same era, weighed about the same. They were both slightly under 7000 pounds. A 7000 pound 27 footer is not a heavy boat. The Sea Sprite 27 by A. E. Luders wieghed in at 7600 pounds and the Orion 27 MK II by Pacific Seacraft weighs in at 10,000. Granted, the boats of today are lighter. Sometimes I think it's because it costs less to build them lighter... All in all, the Cal 2-27 is a great sailboat. Two people can be comfortable during month long cruises and it'll handle 4 or 5 adults for a day sail. At a going price of $5000 to $12000, the Cal 2-27 is one of the best boat bargains on today's used sailboat market. And, it's a pleasure to sail. Dan Dalrymple
---
Cal Yachts webpage

A webpage, edited by Dan Dalrymple, and

dedicated to one of the greatest sailboat

designers in the world, Bill Lapworth, who

designed the Cal 40 in 1963.
---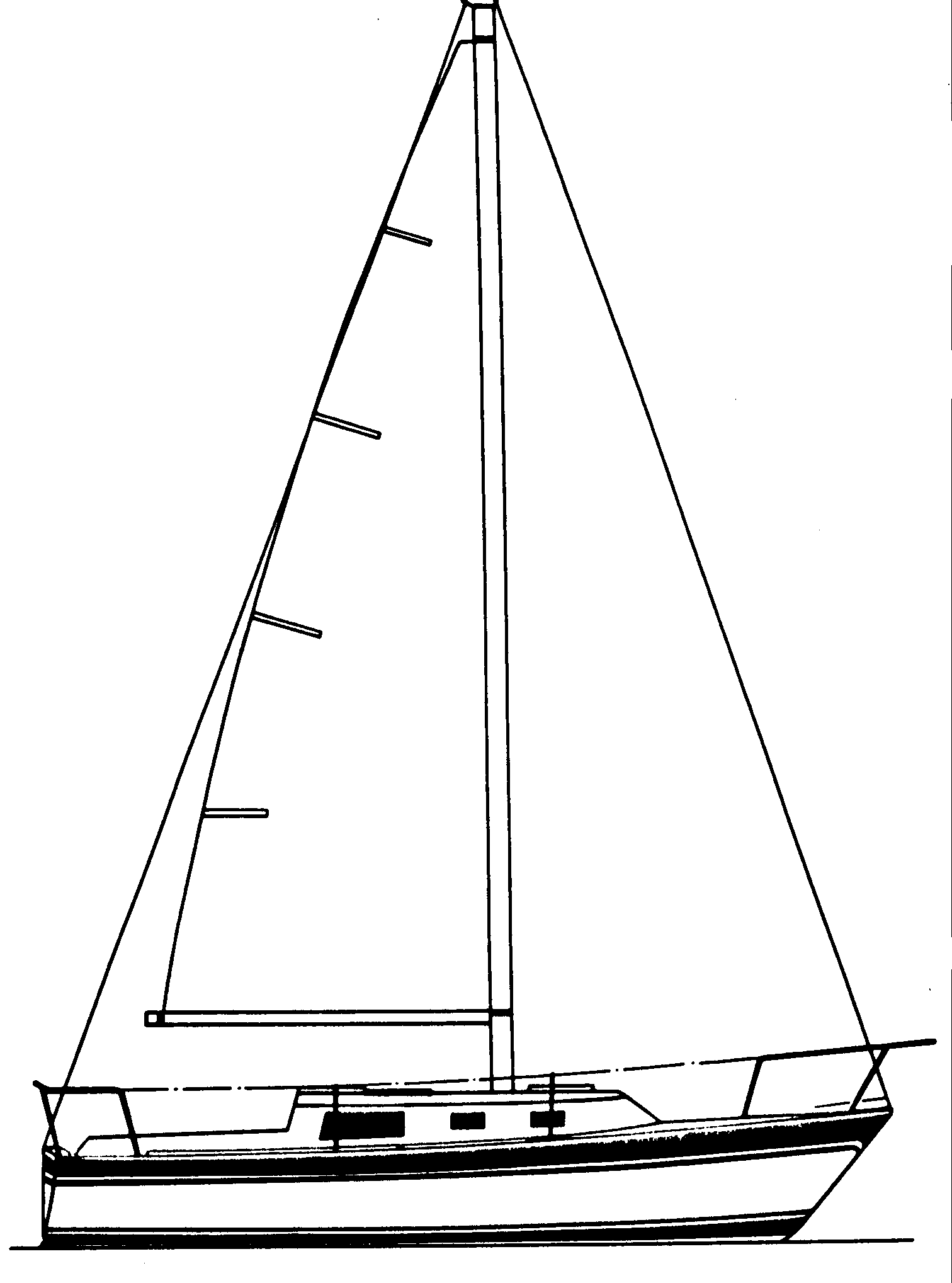 End of page...