Dan Dalrymple's website

Fun, light and G-rated pages from Dan's family tree, sailing the Great lakes in old Cal Yachts, burning Ohio firewood, herbal cures, my humble opinions on several '70s Great Lakes sailboats, and muzzle loading ballistic charts .
Click on any of the yellow buttons below to view more of our site's pages.




Our home page.


One of my favorite sailboats. I've owned a Cal 2-27 for over 20 years. I've owned larger, newer boats but the cal 27 remains my favorite sailboats for the Great Lakes especially Lake Erie.


My humble opinion on several older sailboats that were popular on the Great Lakes during the '70s


Interesting information on burning firewood as a home heating aid.


We've backed up our home's heating furnace with a firewood woodstove for over 40 years.


Our ancestors used many different items to cure their ills. Hundreds of these items, or herbs, as people called them were developed into the medicines that we use today. Note: For information only. We do not sell or promote herbs here.


Muzzle loading ballistic tables from my son and my experiences with Ohio muzzle loading deer hunting.


This web page contains a complete Dalrymple family line from Andrew Dalrymple, born in Scotland about 1682, all the way down to my grandson, Brian.
Click on any of the yellow buttons above to view more of our site's pages.
The Cal 9.2 (meter) by Ron Holland

After the long run of Cal sailboats that were designed by Bill Lapworth came these "Calmeter Editions". This 9.2 meter yacht was intended to be a high performance series (I'm sure it is). The hull of this 9.2 meter was derived from one of Holland's famous "Half Ton" racing yachts. This design was manufactured for 4 years, from 1981 until 1984. The design was very light in displacement and came with one of two keels, deep and deeper! The reversed transom was triangular in shape, very racy looking...
Specs
LOA = 29 ft. 11.5 in.
LWL = 25 ft. 5 in.
BEAM = 10 ft. 4 in.
DRAFT = 5 ft. 7 in. / 4 ft. 7 in.
DISP = 7000 lbs.
SA = Main 162.5 sq. Ft.
SA = 100% foretriangle 225.6
SA = 388.1 sq. Ft.
ENGINE = 11hp diesel
GALLEY = 2 burner alcohol
HULL = FRP
SPARS = painted aluminum
FUEL diesel 11 gal.
BERTHS = 6
Designer = Ron Holland
This line drawing was scanned it from a very small photo. It does give a good idea about the boat's lines.
Editor's note: This is a light boat. I wonder how well the hulls held up? For Example, a Catalina 30 displaces 10,300 pounds and is about the same size as this boat. This 30 footer is over 3000 pounds lighter! The Catalina 30, however, is built like a truck. On the other hand, a San Juan 33 only weighs 6000 pounds. A Tartan 10 (33 ft.) weighs only 6700. I would, however, appreciate coments from owners of this Cal 9.2. Thanks, dd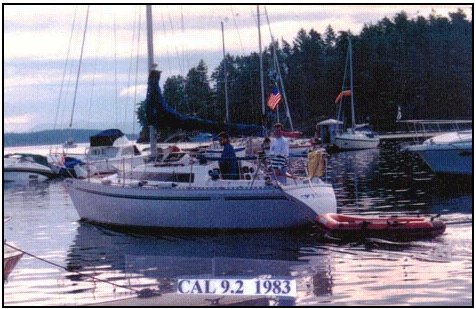 ---
Old Cal Yachts webpage. A webpage, edited by Dan Dalrymple, and dedicated to one of the greatest Sailboat designers in the world, Bill Lapworth, who designed the Cal 40 in 1963. The Cal 40 remains a great sailboat design to this very day. Someday I'm gonna own one. Dan Dalrymple
Return to my Old Cal Yachts page. This is where you just came from. It contains facts and information on Jack Jensen, Bill Lapworth and Cal Yachts.
Return to the index of my website.This index will guide you to all parts of this website including my Favorite Lake Erie boats. My Cal Yachts Question and Answer (Q&A) pages, muzzle loading ballistics, my webpage on herbal cures and more...
---
bottom of page . . .
Dan Dalrymple, editor, Old Cal Yacht homepage. No fees, no charges, just good "G" rated information for all ages to view.