This Cal 40 brochure was sent to me by Rob Stiglitz of New York. Ron owns a Cal 40 and has photocopied most of his documentation and sent copies to me. Thanks to you, Rob. Among the copies that Rob sent to me is my first line drawing of a Cal 40, my favorite boat... I just got my new scanner working today so here's the line drawing of the 40. Now that I've got a scanner again, I've also got some Cal 34 information.
My first line drawing of a Cal 40, the boat that revolutionized sailing to the masses. Now, the working man could own a sailing yacht that would cruise well and also kick some real butt on the racing circuit. Narrow, flat bottomed, fin keeled, spade ruddered, butt stomping, go-getter, the Cal 40. Someday I'm gonna own one . . .
Specifications
LOA = 39 feet 4 inches
LWL = 30 feet 4 inches
BEAM = 11 feet 0 inches
DRAFT = 5 feet 7 inches
DISPLACEMENT = 15,500 pounds
BALLAST = 6,000 pounds
SA = 700 square feet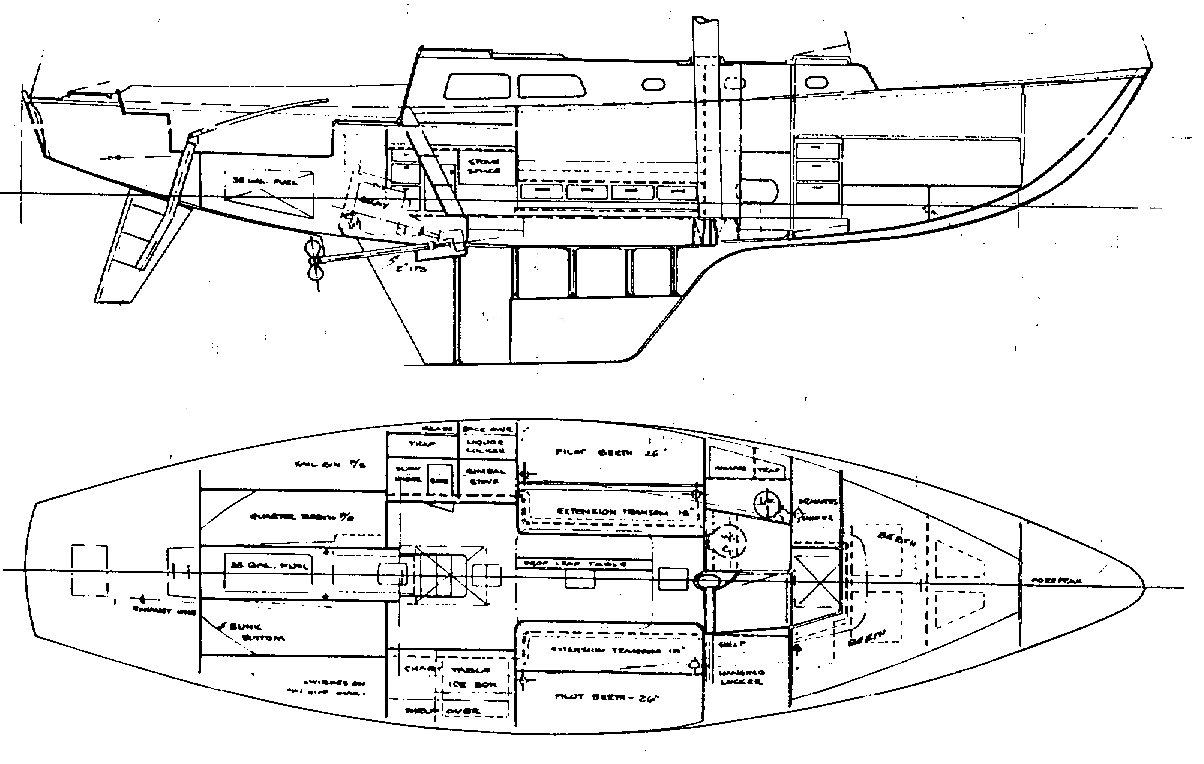 Ron sent a couple articles along with his packet that were in recent magazines, written about the Cal 40. I'll post a review of these articles, since I can't legally quote them word for word. Here's the exact text from the 1965 Cal 40 brochure from Jensen Marine Corporation, 1781 Placentia Avenue, Costa Mesa, CA (no zip code in 1964). Get this phone number for Cal Yachts (don't try to dial it... ) Midway 6-3081.
CALIFORNIA-40. The beautiful Cal 40 not only reflects her Lapworth/Jensen heritage, she surpasses her predecessors in her long sleek lines and fine interior finish.
Consistant with the high performance of the California series, the Cal 40 entered the national yachting scene and achieved a major triumph by winning first over-all in the 1964 S.O.R.C. in Florida.
Her capacity to perform is immediately apparent to all perceptive yachtsmen. One knows that she's a winner as soon as one sees her move through the water.
Her beautiful lines, her useable deck space, and large well planned cockpit area are a fitting introduction to her spacious and well finished interior. Her galley is functional and large. Highlighting other essential gally features are a one hundred pound capacity ice box and formica work surfaces port and starbord. The large solid mahogany drop leaf table and many well placed drawers complete the main cabin. Editor's Note: There's more, I'm going to put this much on the website and into the index on the calhome page. I'm typing this in myself as the photocopy didn't scan well enough to allow the OCR program to work very well. dd
---
Old Cal Yachts webpage. A webpage, edited by Dan Dalrymple, and dedicated to one of the greatest Sailboat designers in the world, Bill Lapworth, who designed the Cal 40 in 1963. The Cal 40 remains a great sailboat design to this very day. Someday I'm gonna own one. Dan Dalrymple
Return to the index of my website.This index will guide you to all parts of this website including my Favorite Lake Erie boats. My Cal Yachts Question and Answer (Q&A) pages, muzzle loading balastics, my webpage on herbal cures and more...
Return to the my Old Cal Yacht pages. This is where you just came from... You can browse these Cal Yacht pages for hours. Print these pages out and include them in your Cal Yacht documentation. Also browse thru my Cal Yachts Question and Answer (Q&A) pages.
---
You also might enjoy looking at our Apple Creek United Methodist Church website at http:www.applecreekumc.com
Dan Dalrymple, Wooster, Ohio
go2erie@sssnet.com
This page last updated on May 13, 2013.
bottom of page . . .
Dan Dalrymple, editor, Old Cal Yacht homepage. No fees, no charges, just good "G" rated information for all ages to view.