Note: This is an old website. I leave it up since there isn't much about Cal Yachts on the web. I don't spend a lot of time on this site but I try to correct it whenever I get new information. Send additions and corrections to
Dan Dalrymple . . . email to go2erie@sssnet.com
---
This is a photo of an early Cal 25 flat-top, outboard powered... (See below for line drawings and specs on a later designed 1984 Cal 24.)
I earlier thought that this photo was a Cal 24 flat-top or flat-deck. See editor's note below with correction from Jay Wolcott, who sailed these boats in the 1970's.

This is a photo of an earlier Cal 25. Note that this 25 is outboard powered. Note: I now have line drawings for the original California 24 (The original 24 that teenager Robin Lee Graham circumnavigated in during the early 1960s.) and will get them scanned and into this webpage. See e-mails below for more clarification on these old 24/25 foot Cals.
I don't know what others call this design but I always called it the Cal "flat-top". This design produced a unique and distinct look. These were the first designs that Jensen Marine and Bill Lapworth produced. They were quick, roomy and functional. The freeboard (sides of the hull) came up to the top of the cabin resulting in added cabinspace and a roomy deck to work on. These flat-top designs were produced from the start of Jensen Marine into the early 1970's. Anyone have the specs and model of any of these flat-top designs by Lapworth?
Thanks for your page it sure brings back old memories when we campaigned many of these boats in Long Beach Yacht Club and the Trans
Editor's note: Here is a copy of an email that I received from Jay Wolcott. It sheds some more light on the Cal 24/25 issue. Subject: Corrections. . . Date: Sun, 14 Jun 1998 17:00:42 -0700 From: Jay Wolcott To: go2erie@bright.net
Hi Dan, I'm an old friend of Jack Jensen and also know Robin Graham as well as sailed and raced 3 cal 24s in the 70s--The picture you say is cal 24 in your pages is actually a cal 25 --a very roomy and good sea boat-faster and stiffer than the cal 24---The boat that Robin sailed around the world is actually a L- 24 the first boat Lapworth put to the market--This boat had a full molded keel with internal ballast--Made a fine cruiser and stiff to weather--The cal 24 was a centerboard version of the same mold of the L24
This boat could tip over and extreme conditions turn turtle. The racing groups all learned to strap life preservers to the tip of the mast when they tipped over rapidly swimming out with ties in teeth--LOL--I had to do this once--The cal 24 had trunk cabin--not flush deck like the cal 25.
Another great boat of that era was the cal -30 a roomy and stiff boat --thus an ideal racer / cruiser--Two of my friends took this design to Tahiti and back to Long Beach Marina--same gang way as Robin Graham's L-24-----I'm presently looking for a good used cal 34 ideally on the west coast as I would like to work her in Kona Hawaii--
Pacific Yacht Races to Hawaii---Regards Jay Wolcott
Editor's note: I stand corrected. I enjoy getting e-mails like this one. Thanks,Jay. This email is a great help in getting these early models of Cals straightened out in my mind. We'll eventually get them straight. dd
Here's another e-mail that goes right along with Jay's e-mail. (editor) Subject: Regarding your request for more information on CAL 24 Date: Sat, 13 Jun 1998 21:04:22 -0700 From: Philip A. Chung To: go2erie@bright.net
I am a former owner of a CAL 24 (Hull #92) and I am sending you some reproductions of factory literature by FAX. I enjoyed owning my boat for over ten years and was sad when I had to part with it. I also enjoyed finding this web page and reading about Lapworth and CAL boats, becaused I think they are some of the best sailing boats ever built.
A little more information concerning the CAL 24: There was a organized class association for this boat in Long Beach, California until about 1988/89. The association had one annual National race each year. Unfortunately, active participation waned as many of the long time owners went on to newer, different boats.
In addition to Robin Graham's world navigation in a Cal 24, the boat was actually sailed by an owner over to Hawaii (after some modifications). I believe I have a article written by the skipper about that voyage somewhere if you are interest in it.
The last Cal 24 National Champion was a very fine owner/racer named Steve Cole. I haven't seen or spoken to Steve in 10 years, but he is probably a good source for more information on the Cal 24.
Philip A. Chung
Thanks Philip, for an interesting email on Cal 24s. Also Phil sent part of the owner's manual and line drawings for the original California 24 that was mentioned in both of these emails. I'll soon get these line drawings and the text of the user's manual in this webpage.
---
The 1984 Cal 24 inboard. (See above for a photo of an older Cal 24 with an outboard.)
Manufacturer's comment on the Cal 24 for the 1984 Sail Magazine.
The newest Cal may be the smallest boat we've built in years but still it incorporates all the experienced thinking that make the bigger Cal boats so successful.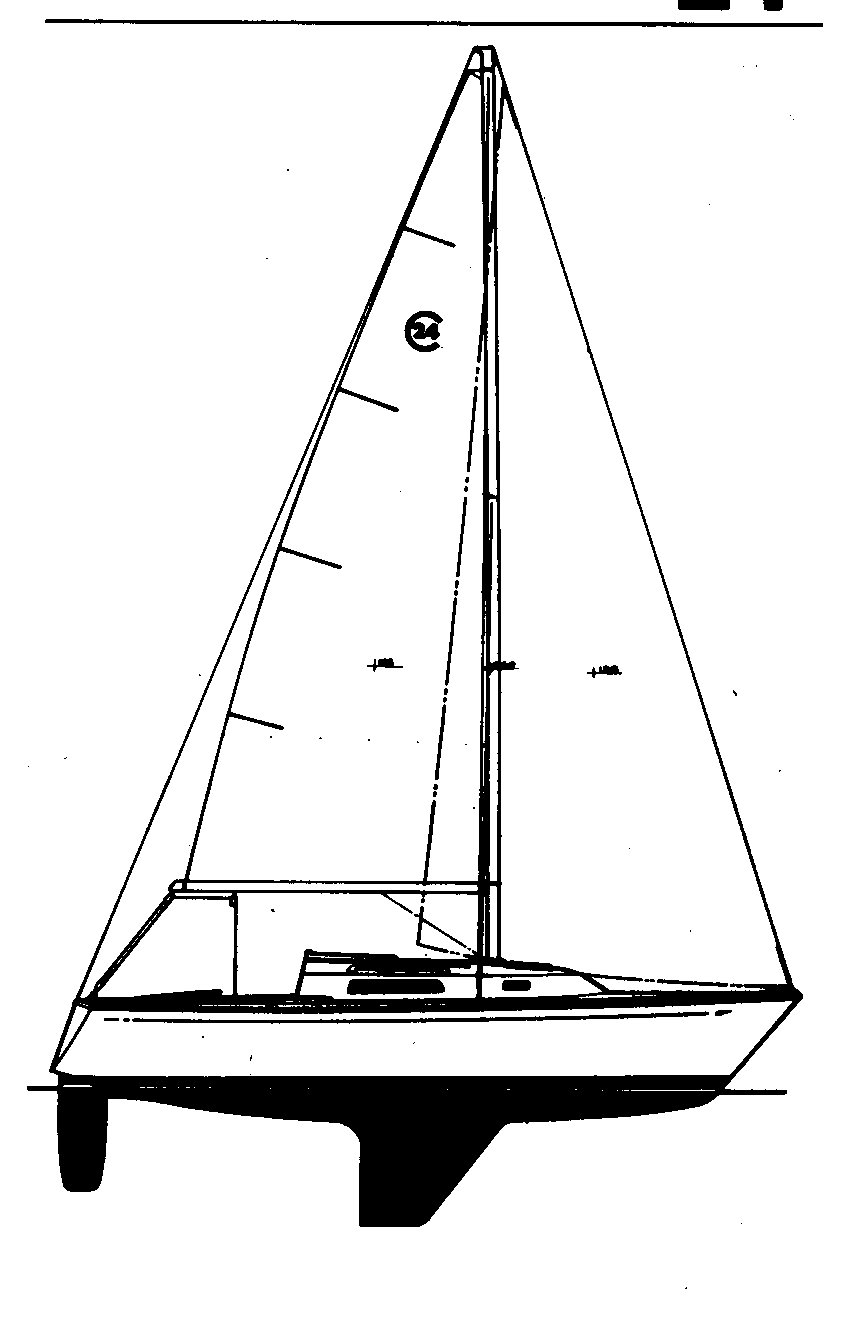 LOA = 24' 4"
LWL = 20' 0"
Beam = 8' 0"
Draft = 4' 3" or 3' 4"
Displacement = 3,300 pounds
SA standard rig:
Main = 122sg.ft., 100% foretriangle = 138sq.ft.
I = 29' 9"
J = 9' 4"
P = 25' 9"
E = 9' 6"
Hull material = FRP
Spars = Aluminum
Berths = 4
Engine = Yanmar 7.5 HP diesel
Fuel = Diesel 12 gallons
Heads = 1 portable
Water = 15 gallons
Designer = C. Raymond Hunt and associates.
Though the Cal 24 is trailerable she has the feel of a blue water yacht. She's 3,300 pounds with a 20 foot waterline on an eight foot beam. Eleven hundred seventy five pounds of external lead ballast powered by 260 square feet of sail offer the feel of big boat performance. Other big boat construction features include three keel floors for tremendous keel support and hull strength, pan interior construction for exceptional hull rigidity, and balsa cored decks for strength and light weight.
The cockpit on the 24 is a big seven feet two inches and designed with angled coamings and faceted edges for comfortable seating. Other features include two speed recessed genoa winches, and two big lockers for gear, sails and gas tank.
Below the 24 is well appointed for family cruising. There are four big berths and a head in a private compartment. And the sliding galley and removable load-at-home-cooler are standard.
See why thousands of seasoned sailors have made Cal their first choice. At a very attractive price. Cal. You can't beat the experience. Bangor Punta Marine builds quality sailboats under the Cal, 0'Day and Ranger brands. Cal models are the 24, 27, 9.2 Meter, 31, 35, 39 and 44.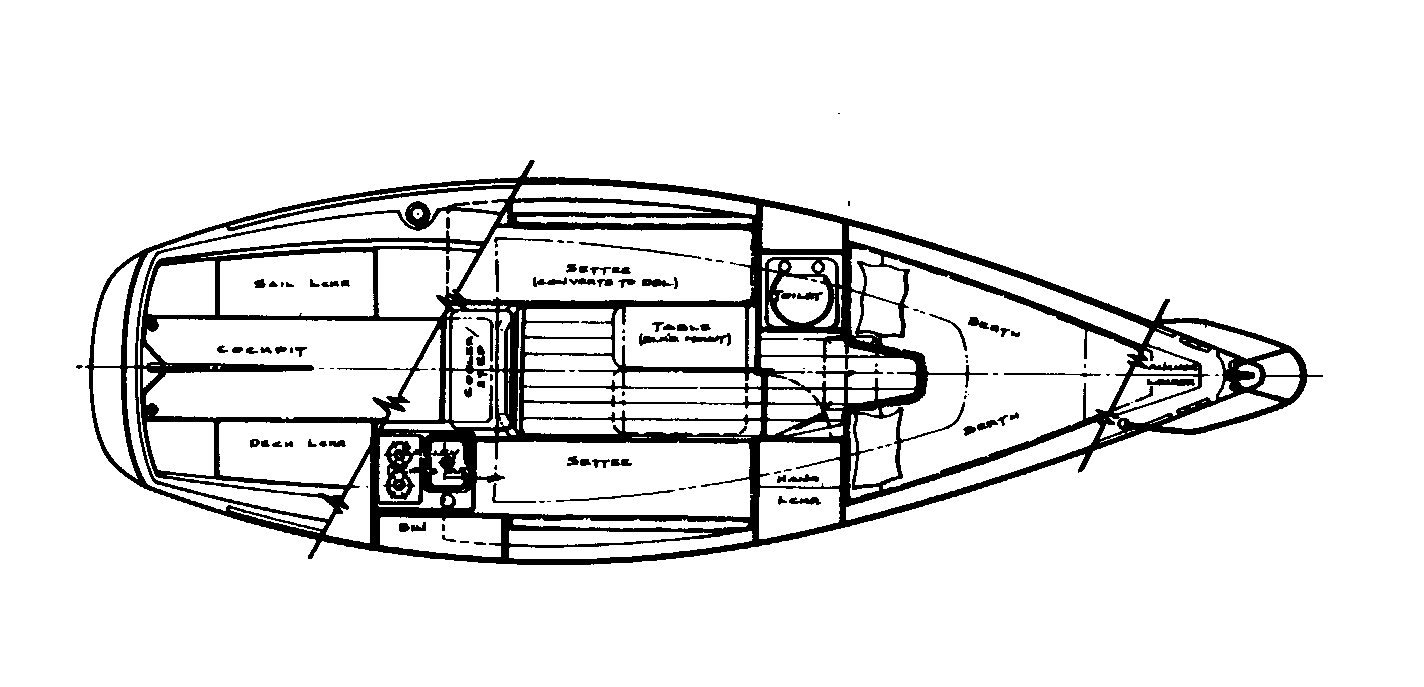 This site was last updated May 13, 2013